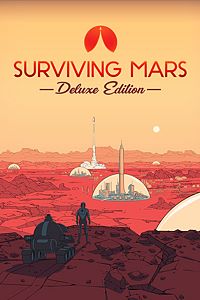 Prezzi ultimi aggiornati a: 21.02.2019 06:41:05
Rilascio: 15.03.2018 (DE)
Colonize Mars and discover her secrets, with minimal casualties. Surviving Mars challenges you to colonize Mars and survive the process. Create habitable living areas in grand domes, make discoveries, and build a new society. The Digital Deluxe Edition includes additional in-game music, housing styles, and the shiny new "Metropolis" structure style!
DLC Compatibile
Non è stato richiesto alcun DLC
If you want to buy a game by gift card, please use the browser and my website for this. I will get a small commission to pay the server etc. This helps me a lot and you won't have extra charges etc.! Thank you very much!
Data di rilascio
Prezzo di accesso EA *
Prezzo Gold *
(Prezzo scontato) Prezzo *
Paese
Link
15.03.2018
n / a

n / a

39,99 USD

USA**

Il tuo prezzo locale

Compra
15.03.2018
n / a

n / a

10,06 USD

Argentina**

Prezzo più economico

Compra
15.03.2018
n / a

n / a

15,97 USD

Turkey

Compra
15.03.2018
n / a

n / a

21,21 USD

Brazil

Compra
15.03.2018
n / a

n / a

25,95 USD

Russia

Compra
15.03.2018
n / a

n / a

25,97 USD

Mexico

Compra
15.03.2018
n / a

n / a

26,74 USD

India**

Compra
15.03.2018
n / a

n / a

28,62 USD

Hungary

Compra
15.03.2018
n / a

n / a

28,70 USD

South Africa

Compra
15.03.2018
n / a

n / a

30,33 USD

Canada**

Compra
* I prezzi sono calcolati e potrebbero non essere corretti! Controllare da soli prima di acquistare qualsiasi cosa. Non siamo responsabili di eventuali costi aggiuntivi addebitati!
**This country has special tax information comments (see tooltip)
ALL FOLLOWING ADS ARE PROVIDED BY DISQUS :(
Loading comments…