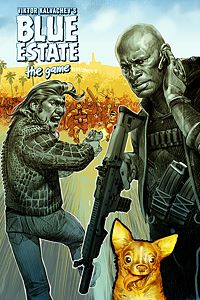 ID prodotto: C1KMFMVCD885
Prezzi ultimi aggiornati a: 19.02.2018 16:54:57
Rilascio: 18.02.2015 (US)
Blue Estate is a darkly funny on-rail shooter based on the comic books from Viktor Kalvachev. WELCOME TO THE FIRST NEXT GEN RAIL SHOOTER! Using Kinect for Xbox One motion detection capability, Blue Estate offers previously unmatched immersion into the mafia world of Los Angeles, packed with humour, original gameplay and incredible fun. In Blue Estate you will play Tony Luciano, the psychopathic son of the Italian mafia godfather of LA and Clarence, an ex-Navy SEAL, penniless and now a hit-man bent on cleaning up the mess started by Tony. As Tony launches a personal vendetta against the Sik Brother's gang in an attempt to save his best dancer, Cherry Popz, Clarence wants to end the gang war, taking him to the farthest corners of Jamaica! A RAIL SHOOTER GAME TAILORED FOR KINECT FOR XBOX ONE ! Thanks to an intuitive gameplay tailored for Kinect for Xbox One motion detection helps you live out the most extreme rail shooter experiences as yo...
(more)
Edizioni alternative
Non sono state trovate edizioni alternative
DLC Compatibile
Non è stato richiesto alcun DLC
If you want to buy a game by gift card, please use the browser and my website for this. I will get a small commission to pay the server etc. This helps me a lot and you won't have extra charges etc.! Thank you very much!
Data di rilascio
Prezzo di accesso EA *
GAME PASS Prezzo *
Prezzo Gold *
(Prezzo scontato) Prezzo *
Paese
Link
n/a
n / a

n / a

n / a

12,99 USD

USA

Il tuo prezzo locale

Compra
n/a
n / a

n / a

n / a

6,49 USD

Argentina

Prezzo più economico

Compra
n/a
n / a

n / a

n / a

7,74 USD

Brazil

Compra
n/a
n / a

n / a

n / a

8,90 USD

Turkey

Compra
n/a
n / a

n / a

n / a

9,23 USD

Mexico

Compra
n/a
n / a

n / a

n / a

9,92 USD

Russia

Compra
n/a
n / a

n / a

n / a

10,33 USD

Hungary

Compra
n/a
n / a

n / a

n / a

10,34 USD

Canada

Compra
n/a
n / a

n / a

n / a

10,67 USD

Norway

Compra
n/a
n / a

n / a

n / a

11,63 USD

Hong Kong

Compra
* I prezzi sono calcolati e potrebbero non essere corretti! Controllare da soli prima di acquistare qualsiasi cosa. Non siamo responsabili di eventuali costi aggiuntivi addebitati!