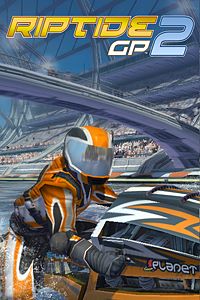 ID prodotto: BR2C25ZF5LK7
Prezzi ultimi aggiornati a: 18.02.2018 08:36:52
Rilascio: 23.01.2015 (US)
Rev up your rocket-powered hydro jet and put your racing skills to the test as you rip across a dynamic, ever-changing torrent of waves in Riptide GP™2. Race through futuristic cityscapes, twisting canals and rivers, open harbors and mysterious research facilities. Hurl yourself off sky-high jumps and bust out death defying stunts. Build a collection of powerful watercraft and customize their performance and paint schemes to suit your individual style. Trade elbows with friends in up to 6-player split-screen matches right in your home! Featuring dynamic racing on fully interactive water surfaces, a deep career mode with tons of upgrades, customizable riders and skills, local 6 player split-screen multiplayer, and fully integrated controller support, Riptide GP2 is the standard in modern water racing games. From Vector Unit, developers of Hydro Thunder Hurricane on Xbox 360 and Windows 8. ● Single Player Career Mode - Compete in over 60 ...
(more)
Edizioni alternative
Non sono state trovate edizioni alternative
DLC Compatibile
Non è stato richiesto alcun DLC
If you want to buy a game by gift card, please use the browser and my website for this. I will get a small commission to pay the server etc. This helps me a lot and you won't have extra charges etc.! Thank you very much!
Data di rilascio
Prezzo di accesso EA *
GAME PASS Prezzo *
Prezzo Gold *
(Prezzo scontato) Prezzo *
Paese
Link
n/a
n / a

n / a

n / a

6,99 USD

USA

Il tuo prezzo locale

Compra
n/a
n / a

n / a

n / a

3,53 USD

Argentina

Prezzo più economico

Compra
n/a
n / a

n / a

n / a

4,33 USD

Brazil

Compra
n/a
n / a

n / a

n / a

4,70 USD

Turkey

Compra
n/a
n / a

n / a

n / a

4,98 USD

Mexico

Compra
n/a
n / a

n / a

n / a

5,12 USD

Russia

Compra
n/a
n / a

n / a

n / a

5,54 USD

Hungary

Compra
n/a
n / a

n / a

n / a

5,57 USD

Canada

Compra
n/a
n / a

n / a

n / a

5,85 USD

Norway

Compra
n/a
n / a

n / a

n / a

6,01 USD

Hong Kong

Compra
* I prezzi sono calcolati e potrebbero non essere corretti! Controllare da soli prima di acquistare qualsiasi cosa. Non siamo responsabili di eventuali costi aggiuntivi addebitati!