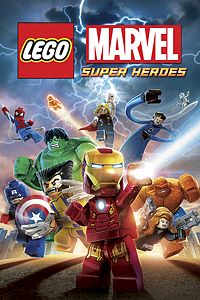 Prezzi ultimi aggiornati a: 16.06.2019 02:55
Rilascio: 22.11.2013 (US)
LEGO® Marvel™ Super Heroes features an original story crossing the entire MARVEL Universe. Players take control of Iron Man, Spider-Man, the Hulk, Captain America, Wolverine and many more MARVEL characters as they unite to stop Loki and a host of other MARVEL villains from assembling a super-weapon capable of destroying the world.
The downloadable version of this game supports English, French, Italian, German, Spanish, Portuguese, Danish.
Se vuoi comprare un gioco, per favore usa il browser e il mio sito web per questo. Voglio ricevere una piccola commissione per pagare il server, ecc. Questo mi aiuta molto e non avrai alcun addebito extra, ecc. Grazie mille!
Non abbiamo trovato un prezzo per la tua regione, qui vedrai la regione con il prezzo migliore (US) here.
Prezzo di accesso EA *
Prezzo Gold *
(Prezzo scontato) Prezzo *
Paese
Link
n / a

n / a

999,00 EUR

USA**

Prezzo di sostituzione locale

Compra
n / a

n / a

999,00 EUR

Canada**

Prezzo più economico

Compra
n / a

n / a

999,00 EUR

India**

Compra
n / a

n / a

999,00 EUR

Colombia

Compra
n / a

n / a

999,00 EUR

Turkey

Compra
n / a

n / a

999,00 EUR

Mexico

Compra
n / a

n / a

999,00 EUR

Russia

Compra
n / a

n / a

999,00 EUR

Chile

Compra
n / a

n / a

999,00 EUR

Norway

Compra
n / a

n / a

999,00 EUR

Saudi Arabia

Compra
* I prezzi sono calcolati e potrebbero non essere corretti! Controllare da soli prima di acquistare qualsiasi cosa. Non siamo responsabili di eventuali costi aggiuntivi addebitati!
** Questo paese ha una tassa speciale per informazioni vedi i commenti (vedi tooltip)
ALL FOLLOWING ADS ARE PROVIDED BY DISQUS :(
Loading comments…