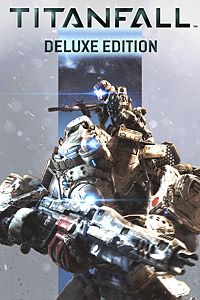 Product ID: BQ8DW4M2D7CB
Prices last updated at: 18.02.2018 08:36:38
Release: 28.11.2014 (US)
REQUIRES XBOX LIVE GOLD, SOLD SEPARATELY. Millions have already heard the words "Standby for Titanfall" now it's your turn. Set on the edges of the known universe, Titanfall is a fast-paced, bold take on the first-person Shooter. Combining wall-running, double jumping Pilots and powerful yet agile 20-foot-tall Titans, Tackle varied situation with enhanced mobility, verticality and giant robots. There has never been a better time to jump in to the action. Since launch, Respawn has delivered tons of free updates including new Game Modes, Daily Challenges, Titan Customization and Ranked Play. Recent additions include a four player Co-Op mode, Frontier Defense where gamers strategically defend a vital objective from waves of AI enemies. Get ready to call in your Titan and join the battle! With the Titanfall Deluxe Edition, you'll have access to everything. This bundle includes Titanfall and a Season Pass which gives you access to 12 new map...
(more)
Alternate Editions
No alternate editions were found
If you want to buy a game by gift card, please use the browser and my website for this. I will get a small commission to pay the server etc. This helps me a lot and you won't have extra charges etc.! Thank you very much!
Release Date
EA Access Price*
GAME PASS Price*
GOLD Price*
(Discount-) Price*
Country
Link
n/a

17,99 USD

n/a

n/a

19,99 USD

USA

Your local price

Buy
n/a

13,62 USD

n/a

n/a

15,13 USD

Argentina

Cheapest price

Buy
n/a

14,33 USD

n/a

n/a

15,92 USD

Canada

Buy
n/a

15,61 USD

n/a

n/a

17,35 USD

Turkey

Buy
n/a

17,99 USD

n/a

n/a

19,99 USD

USA

Buy
n/a

19,13 USD

n/a

n/a

21,26 USD

Russia

Buy
n/a

19,40 USD

n/a

n/a

21,56 USD

Mexico

Buy
n/a

21,49 USD

n/a

n/a

23,88 USD

Hungary

Buy
n/a

22,18 USD

n/a

n/a

24,65 USD

Colombia

Buy
n/a

24,05 USD

n/a

n/a

26,72 USD

Hong Kong

Buy
*Prices are calculated and may be incorrect! Check on your own before buying anything. We are not responsible for any additional costs charged!