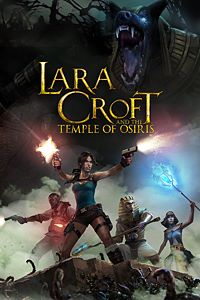 Prices last updated at: 20.09.2018 07:43:19
Release: 09.12.2014 (US)
Lara Croft and the Temple of Osiris is the sequel to the critically acclaimed Lara Croft and the Guardian of Light. This all-new adventure takes place in the Temple of Osiris, hidden deep in the deserts of Egypt. Lara Croft arrives at the temple, hoping to be the first inside, but rival treasure hunter Carter Bell has beaten her to the entrance. They each seek the Staff of Osiris, but they discover more than they bargained for. Upon entering the tomb, Carter removes the mythical Staff from its resting place and inadvertently triggers a trap cursing them both and unleashing the evil god Set. But the staff also awakens the gods Horus and Isis, the son and wife of Osiris. Now free from their ancient prison, they join forces with Lara and Carter in order to resurrect Osiris, the only god capable of removing the curse. As Lara and her companions fight their way across the sands and through ancient tombs, they will face gods and monsters of m...
(more)
If you want to buy a game by gift card, please use the browser and my website for this. I will get a small commission to pay the server etc. This helps me a lot and you won't have extra charges etc.! Thank you very much!
Release Date
EA Access Price*
GOLD Price*
(Discount-) Price*
Country
Link
09.12.2014
n/a

n/a

19,99 USD

USA

Your local price

Buy
09.12.2014
n/a

n/a

7,84 USD

Turkey

Cheapest price

Buy
09.12.2014
n/a

n/a

10,50 USD

Russia

Buy
09.12.2014
n/a

n/a

11,63 USD

South Africa

Buy
09.12.2014
n/a

n/a

12,70 USD

Argentina

Buy
09.12.2014
n/a

n/a

14,42 USD

Hungary

Buy
n/a
n/a

n/a

15,17 USD

Hong Kong

Buy
09.12.2014
n/a

n/a

15,47 USD

Canada

Buy
09.12.2014
n/a

n/a

15,56 USD

India

Buy
09.12.2014
n/a

n/a

16,53 USD

Colombia

Buy
*Prices are calculated and may be incorrect! Check on your own before buying anything. We are not responsible for any additional costs charged!
ALL FOLLOWING ADS PROVIDED BY DISQUS :(
Loading comments…