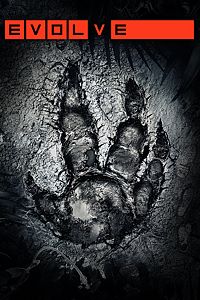 Product ID: C4HHJM5JSSJ1
Prices last updated at: 21.02.2018 09:55:31
Release: 10.02.2015 (US)
Evolve is a true next generation multiplayer shooter featuring addictive adrenaline-pumping 4v1 action. One player-controlled monster must evade and outsmart a team of four uniquely skilled playable hunters. Evolve and overpower as the monster or team up and out number as the hunters. With endless combinations of hunters, monsters, maps and game modes to choose from, no two hunts will ever be the same. It's survival of the fittest and any side can win. CHOOSE YOUR SIDE. The Broken Hill Mine map features a deep labyrinth of mining caves, full of shortcuts and dead ends for ambushes. The Broken Hill Foundry map features a new industrial biome with more man-made architecture, packed with new breakable environmental objects and vertical combat areas.
Compatible DLCs
No DLC was requested yet
If you want to buy a game by gift card, please use the browser and my website for this. I will get a small commission to pay the server etc. This helps me a lot and you won't have extra charges etc.! Thank you very much!
Release Date
EA Access Price*
GAME PASS Price*
GOLD Price*
(Discount-) Price*
Country
Link
n/a
n/a

n/a

n/a

29,99 USD

USA

Your local price

Buy
n/a
n/a

n/a

n/a

15,58 USD

Turkey

Cheapest price

Buy
n/a
n/a

n/a

n/a

17,86 USD

Saudi Arabia

Buy
n/a
n/a

n/a

n/a

18,85 USD

Japan

Buy
n/a
n/a

n/a

n/a

19,59 USD

Australia

Buy
n/a
n/a

n/a

n/a

21,18 USD

Russia

Buy
n/a
n/a

n/a

n/a

21,35 USD

Switzerland

Buy
n/a
n/a

n/a

n/a

22,79 USD

Norway

Buy
n/a
n/a

n/a

n/a

23,43 USD

Poland

Buy
n/a
n/a

n/a

n/a

23,66 USD

Hungary

Buy
*Prices are calculated and may be incorrect! Check on your own before buying anything. We are not responsible for any additional costs charged!