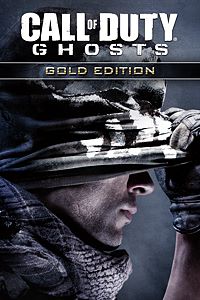 Product ID: bvtfp7l3cvl8
Prices last updated at: 18.07.2018 13:38:55
Release: 22.11.2013 (US)
Outnumbered and outgunned, but not outmatched. Welcome to Call of Duty®: Ghosts, an extraordinary step forward for one of the largest entertainment franchises of all-time. This new chapter in the Call of Duty® franchise features a fresh dynamic where players are on the side of a crippled nation fighting not for freedom, or liberty, but simply to survive. Fueling this all new Call of Duty universe, the franchise's ambitious new next-gen engine delivers stunning levels of immersion and performance all while maintaining the speed and fluidity of 60 frames-per-second across all platforms. Single Player Campaign Ten years after a devastating mass event, the nation's borders and the balance of global power have been redrawn forever. As what's left of the nation's Special Operations forces, a mysterious group known only as ""Ghosts"" leads the fight back against a newly emerged, technologically-superior global power. Multiplayer In Call of Dut...
(more)
Alternate Editions
No alternate editions were found
Compatible DLCs
No DLC was requested yet
If you want to buy a game by gift card, please use the browser and my website for this. I will get a small commission to pay the server etc. This helps me a lot and you won't have extra charges etc.! Thank you very much!
Release Date
EA Access Price*
GAME PASS Price*
GOLD Price*
(Discount-) Price*
Country
Link
22.11.2013
n/a

n/a

n/a

59,99 USD

USA

Your local price

Buy
n/a
n/a

n/a

n/a

19,95 USD

Argentina

Cheapest price

Buy
n/a
n/a

n/a

n/a

37,55 USD

Turkey

Buy
22.11.2013
n/a

n/a

n/a

45,32 USD

Canada

Buy
n/a
n/a

n/a

n/a

48,76 USD

South Africa

Buy
22.11.2013
n/a

n/a

n/a

51,85 USD

Brazil

Buy
22.11.2013
n/a

n/a

n/a

52,67 USD

Mexico

Buy
n/a
n/a

n/a

n/a

53,80 USD

Hungary

Buy
n/a
n/a

n/a

n/a

55,50 USD

Russia

Buy
n/a
n/a

n/a

n/a

55,72 USD

Colombia

Buy
*Prices are calculated and may be incorrect! Check on your own before buying anything. We are not responsible for any additional costs charged!
ALL FOLLOWING ADS PROVIDED BY DISQUS :(
Loading comments…