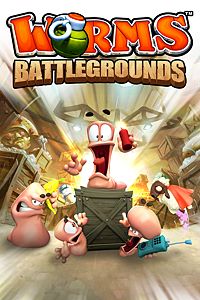 Product ID: bsfcz5066blj
Prices last updated at: 19.02.2018 17:00:01
Release: 30.05.2014 (US)
Worms™ Battlegrounds Worms™ Battlegrounds brings friends and families together in the noble pursuit of self‐improvement, world domination and exploding sheep. Worms™ Battlegrounds is the biggest and best Worms™ game to date - more worms, larger landscapes, more dynamic water, more weapons and more customisation items than ever before. It features beautiful high definition 3D visuals (but still retains the classic 2D gameplay) with new lighting effects, new features to help users interact socially, exciting additions to improve the single player experience, and more of everything a Worms fan could want. Form Clans, Take On The World Join together with friends and other Worms™ Battlegrounds players to form a fearsome team; name your clan, design your own emblem, promote other players to act as leaders and officers. Enter your clan into the league and fight together to make your mark on the leaderboards. Nobody wants an empty trophy cabine...
(more)
Compatible DLCs
No DLC was requested yet
If you want to buy a game by gift card, please use the browser and my website for this. I will get a small commission to pay the server etc. This helps me a lot and you won't have extra charges etc.! Thank you very much!
Release Date
EA Access Price*
GAME PASS Price*
GOLD Price*
(Discount-) Price*
Country
Link
n/a
n/a

n/a

n/a

24,99 USD

USA

Your local price

Buy
n/a
n/a

n/a

n/a

12,52 USD

Argentina

Cheapest price

Buy
n/a
n/a

n/a

n/a

15,17 USD

Brazil

Buy
n/a
n/a

n/a

n/a

15,72 USD

Turkey

Buy
n/a
n/a

n/a

n/a

17,06 USD

South Africa

Buy
n/a
n/a

n/a

n/a

17,73 USD

Russia

Buy
n/a
n/a

n/a

n/a

17,77 USD

Hong Kong

Buy
n/a
n/a

n/a

n/a

17,77 USD

Mexico

Buy
n/a
n/a

n/a

n/a

19,38 USD

Colombia

Buy
n/a
n/a

n/a

n/a

19,89 USD

Canada

Buy
*Prices are calculated and may be incorrect! Check on your own before buying anything. We are not responsible for any additional costs charged!