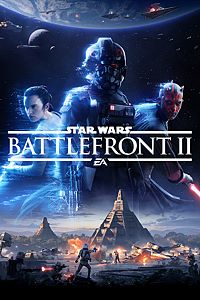 Prices last updated at: 5/20/2019 18:20
Release: 11/17/2017 (UK)
Embark on an endless STAR WARS™ action experience from the bestselling STAR WARS HD videogame franchise of all time.
Rush through waves of enemies on Starkiller Base with the power of your lightsaber in your hands. Storm through the jungle canopy of a hidden Rebel base on Yavin 4 with your fellow troopers, dispensing firepower from AT-STs. Line up your X-wing squadron from an attack on a mammoth First Order Star Destroyer in space. Or rise as a new STAR WARS hero - Iden, an elite Imperial special forces soldier - and discover an emotional and gripping single-player story spanning thirty years.
Experience rich and living STAR WARS multiplayer battlegrounds across all three eras: prequel, classic, and new trilogy. Customize and upgrade your heroes, starfighters, or troopers, each with unique abilities to exploit in battle. Ride tauntauns or take control of tanks and speeders. Down Star Destroyers the size of cities, use the Force ...
(more)
If you want to buy a game by gift card, please use the browser and my website for this. I will get a small commission to pay the server etc. This helps me a lot and you won't have extra charges etc.! Thank you very much!
EA Access Price*
GOLD Price*
(Discount-) Price*
Country
Link
n/a

n/a

24.99 USD

USA**

Your local price

Buy
n/a

n/a

16.52 USD

Argentina**

Cheapest price

Buy
n/a

n/a

20.71 USD

Australia

Buy
n/a

n/a

22.75 USD

Chile

Buy
n/a

n/a

22.88 USD

South Africa

Buy
n/a

n/a

23.47 USD

South Korea

Buy
n/a

n/a

23.79 USD

Switzerland

Buy
n/a

n/a

24.10 USD

India**

Buy
n/a

n/a

24.46 USD

Colombia

Buy
n/a

n/a

24.56 USD

Canada**

Buy
*Prices are calculated and may be incorrect! Check on your own before buying anything. We are not responsible for any additional costs charged!
**This country has special tax information comments (see tooltip)
ALL FOLLOWING ADS ARE PROVIDED BY DISQUS :(
Loading comments…