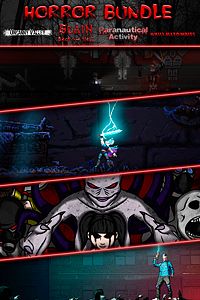 Product ID: c57njq9205zf
Prices last updated at: 1/17/2018 15:26:50
Release: 8/18/2017 (US)
Paranautical Activity Paranautical Activity combines the classic FPS action of games like Doom and Quake, with the randomness and difficulty of modern roguelikes like Binding of Isaac and Spelunky. Welcome to Uncanny Valley – an unsettling story-driven survival horror where nothing is as it seems. Explore an isolated facility and solve its many mysteries, but be warned: the choices you make have meaningful consequences that will determine your fate. Play through multiple times to reveal all of Uncanny Valley's darkest secrets. Slain: Back from Hell. A heavy metal inspired arcade combat game with stunning pixel art visuals, challenging old school gameplay and gore galore. Plus the most metal soundtrack you've ever heard! #KILLALLZOMBIES thrusts civilians into a survival arena where a ravenous zombie horde is unleashed to maim and kill in the name of entertainment. #KILLALLZOMBIES is an isometric arena style twin stick shooter with integr...
(more)
Compatible DLCs
No DLC was requested yet
If you want to buy a game by gift card, please use the browser and my website for this. I will get a small commission to pay the server etc. This helps me a lot and you won't have extra charges etc.! Thank you very much!
Release Date
EA Access Price*
GAME PASS Price*
GOLD Price*
(Discount-) Price*
Country
Link
n/a
n/a

n/a

n/a

49.99 USD

USA

Your local price

Buy
n/a
n/a

n/a

n/a

26.36 USD

Argentina

Cheapest price

Buy
n/a
n/a

n/a

n/a

28.80 USD

Turkey

Buy
n/a
n/a

n/a

n/a

30.64 USD

Brazil

Buy
n/a
n/a

n/a

n/a

34.60 USD

Mexico

Buy
n/a
n/a

n/a

n/a

36.96 USD

Russia

Buy
n/a
n/a

n/a

n/a

38.24 USD

Hong Kong

Buy
n/a
n/a

n/a

n/a

39.11 USD

India

Buy
n/a
n/a

n/a

n/a

39.58 USD

Hungary

Buy
n/a
n/a

n/a

n/a

40.25 USD

Canada

Buy
*Prices are calculated and may be incorrect! Check on your own before buying anything. We are not responsible for any additional costs charged!