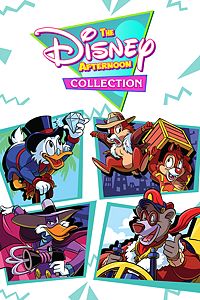 Product ID: c43qq48km38g
Prices last updated at: 1/17/2018 15:41:28
The Disney Afternoon Collection
Release: 4/18/2017 (US)
Starring a cast of beloved Disney characters, The Disney Afternoon Collection takes you back to a golden era of gaming and afternoons filled with adventure. Hunt for treasure around the globe as Scrooge McDuck, fight crime as the hero Darkwing Duck, take to the skies as ace pilot Baloo the bear, and enjoy co-op as Chip and Dale to take down Fat Cat. All six classic games feature new and improved visuals and include filtering options that replicate a retro look and feel. This collection also offers new ways to play with Boss Rush and Time Attack modes, each of which encourages time-based gameplay and features online leaderboards. Additionally, a new "Rewind" feature makes these challenging titles more accessible for newcomers, with the option to rewind time and enjoy a swift recovery from blunders. Best of all, the in-game Museum will provide history buffs with a wealth of extras to celebrate the era of the original releases, such as con...
(more)
Alternate Editions
No alternate editions were found
Compatible DLCs
No DLC was requested yet
If you want to buy a game by gift card, please use the browser and my website for this. I will get a small commission to pay the server etc. This helps me a lot and you won't have extra charges etc.! Thank you very much!
Release Date
EA Access Price*
GAME PASS Price*
GOLD Price*
(Discount-) Price*
Country
Link
n/a
n/a

n/a

n/a

19.99 USD

USA

Your local price

Buy
n/a
n/a

n/a

n/a

15.45 USD

Turkey

Cheapest price

Buy
n/a
n/a

n/a

n/a

18.88 USD

Brazil

Buy
n/a
n/a

n/a

n/a

19.74 USD

Switzerland

Buy
n/a
n/a

n/a

n/a

19.89 USD

Australia

Buy
n/a
n/a

n/a

n/a

19.99 USD

USA

Buy
n/a
n/a

n/a

n/a

20.08 USD

Hong Kong

Buy
n/a
n/a

n/a

n/a

21.07 USD

Argentina

Buy
n/a
n/a

n/a

n/a

21.11 USD

Russia

Buy
n/a
n/a

n/a

n/a

21.30 USD

Taiwan

Buy
*Prices are calculated and may be incorrect! Check on your own before buying anything. We are not responsible for any additional costs charged!