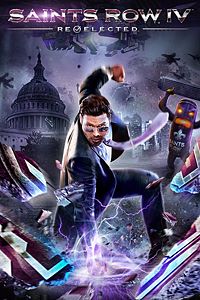 Prices last updated at: 5/20/2019 13:58
Release: 1/20/2015 (US)
After saving the world from a terrorist attack the leader of the 3rd Street Saints is elected to become President of the United States. Things go reasonably well until an alien warlord named Zinyak attacks the white house and abducts his entire cabinet. Now stuck inside a reality bending simulation, the President and the Saints fight to save themselves, Earth, and the entire galaxy... if that all sounds crazy to you, trust us: we're just getting started.
Key features:
• Dont Wanna Miss a Thing – share all the quintessential Saints Row IV moments with new generation screenshot, game clip and livestreaming tools.
• Ridiculous Amount of Content – over $80 worth of content included – the base game, both DLC mission packs, plus 25+ DLC weapons, 15 new vehicles, 60+ wardrobe items, 15 new homies & 6 new superpower elements
• Visual Enhancements - experience Saints Row IV in the highest resolution yet, with visual fidelity enhancements for e...
(more)
Compatible DLCs
No DLC was requested yet
If you want to buy a game by gift card, please use the browser and my website for this. I will get a small commission to pay the server etc. This helps me a lot and you won't have extra charges etc.! Thank you very much!
EA Access Price*
GOLD Price*
(Discount-) Price*
Country
Link
n/a

n/a

19.99 USD

USA**

Your local price

Buy
n/a

n/a

4.39 USD

Argentina**

Cheapest price

Buy
n/a

n/a

9.50 USD

Brazil

Buy
n/a

n/a

9.56 USD

Turkey

Buy
n/a

n/a

10.83 USD

Russia

Buy
n/a

n/a

11.76 USD

South Africa

Buy
n/a

n/a

13.04 USD

Mexico

Buy
n/a

n/a

13.65 USD

Hungary

Buy
n/a

n/a

14.88 USD

Canada**

Buy
n/a

n/a

14.88 USD

Colombia

Buy
*Prices are calculated and may be incorrect! Check on your own before buying anything. We are not responsible for any additional costs charged!
**This country has special tax information comments (see tooltip)
ALL FOLLOWING ADS ARE PROVIDED BY DISQUS :(
Loading comments…