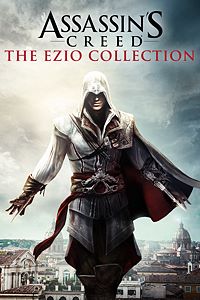 Product ID: BQ9S8ZKCT3Q7
Prices last updated at: 1/17/2018 13:32:01
Assassin's Creed® The Ezio Collection
Release: 11/15/2016 (US)
Make history as the legendary Master Assassin, Ezio Auditore da Firenze, in this compelling collection including Assassin's Creed 2, Assassin's Creed Brotherhood and Assassin's Creed Revelations acclaimed single-player campaigns plus all DLCs, with enhanced graphics. Also enjoy two short movies, Assassin's Creed Lineage® and Assassin's Creed Embers™ for the complete Ezio experience. Live and breathe as the famous Ezio Auditore da Firenze. Learn the ways of the assassins and seek vengeance for the betrayal of your family. Travel through 15th century Renaissance Italy and onto its greatest city Rome then finally onto 16th century Constantinople. Wearing the clothes and weapons of your father, become a leader and rise to command the entire Brotherhood. There you will eventually walk in the footsteps of your legendary mentor Altaïr, defeat your mortal enemies and reveal the truth about the Creed. Game saves from the original Xbox360 Assassi...
(more)
Alternate Editions
No alternate editions were found
Compatible DLCs
No DLC was requested yet
If you want to buy a game by gift card, please use the browser and my website for this. I will get a small commission to pay the server etc. This helps me a lot and you won't have extra charges etc.! Thank you very much!
Release Date
EA Access Price*
GAME PASS Price*
GOLD Price*
(Discount-) Price*
Country
Link
n/a
n/a

n/a

n/a

49.99 USD

USA

Your local price

Buy
n/a
n/a

n/a

n/a

40.25 USD

Canada

Cheapest price

Buy
n/a
n/a

n/a

n/a

41.57 USD

Hong Kong

Buy
n/a
n/a

n/a

n/a

42.20 USD

Argentina

Buy
n/a
n/a

n/a

n/a

45.27 USD

Singapore

Buy
n/a
n/a

n/a

n/a

46.11 USD

Brazil

Buy
n/a
n/a

n/a

n/a

46.67 USD

Turkey

Buy
n/a
n/a

n/a

n/a

46.94 USD

India

Buy
n/a
n/a

n/a

n/a

46.99 USD

Taiwan

Buy
n/a
n/a

n/a

n/a

47.73 USD

Saudi Arabia

Buy
*Prices are calculated and may be incorrect! Check on your own before buying anything. We are not responsible for any additional costs charged!