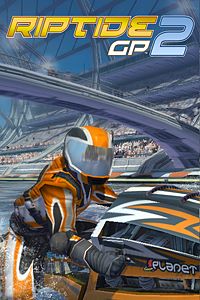 Prices last updated at: 9/22/2018 19:09:21
Release: 1/23/2015 (US)
Rev up your rocket-powered hydro jet and put your racing skills to the test as you rip across a dynamic, ever-changing torrent of waves in Riptide GP™2. Race through futuristic cityscapes, twisting canals and rivers, open harbors and mysterious research facilities. Hurl yourself off sky-high jumps and bust out death defying stunts. Build a collection of powerful watercraft and customize their performance and paint schemes to suit your individual style. Trade elbows with friends in up to 6-player split-screen matches right in your home! Featuring dynamic racing on fully interactive water surfaces, a deep career mode with tons of upgrades, customizable riders and skills, local 6 player split-screen multiplayer, and fully integrated controller support, Riptide GP2 is the standard in modern water racing games. From Vector Unit, developers of Hydro Thunder Hurricane on Xbox 360 and Windows 8. ● Single Player Career Mode - Compete in over 60 ...
(more)
Alternate Editions
No alternate editions were found
Compatible DLCs
No DLC was requested yet
If you want to buy a game by gift card, please use the browser and my website for this. I will get a small commission to pay the server etc. This helps me a lot and you won't have extra charges etc.! Thank you very much!
Release Date
EA Access Price*
GOLD Price*
(Discount-) Price*
Country
Link
1/23/2015
n/a

n/a

6.99 USD

USA

Your local price

Buy
1/23/2015
n/a

n/a

1.88 USD

Argentina

Cheapest price

Buy
1/23/2015
n/a

n/a

2.80 USD

Turkey

Buy
1/23/2015
n/a

n/a

3.46 USD

Brazil

Buy
1/23/2015
n/a

n/a

4.35 USD

Russia

Buy
1/23/2015
n/a

n/a

4.90 USD

Mexico

Buy
1/23/2015
n/a

n/a

5.04 USD

Hungary

Buy
1/23/2015
n/a

n/a

5.10 USD

South Africa

Buy
1/23/2015
n/a

n/a

5.41 USD

Canada

Buy
1/23/2015
n/a

n/a

5.58 USD

Norway

Buy
*Prices are calculated and may be incorrect! Check on your own before buying anything. We are not responsible for any additional costs charged!
ALL FOLLOWING ADS PROVIDED BY DISQUS :(
Loading comments…