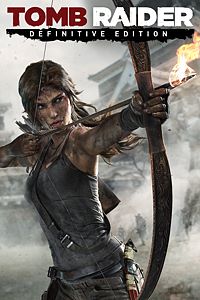 Prices last updated at: 3/21/2019 13:01:13
Release: 1/28/2014 (US)
The Definitive Edition of the critically acclaimed action-adventure has been rebuilt for next-gen consoles, featuring an obsessively detailed Lara and a stunningly lifelike world. Endure high-octane combat, customize weapons and gear, and overcome grueling environments to survive Lara's first adventure.
Alternate Editions
No alternate editions were found
Compatible DLCs
No DLC was requested yet
If you want to buy a game by gift card, please use the browser and my website for this. I will get a small commission to pay the server etc. This helps me a lot and you won't have extra charges etc.! Thank you very much!
EA Access Price*
GOLD Price*
(Discount-) Price*
Country
Link
n/a

n/a

6.00 USD

On Sale (-80%)

USA**

Your local price

Buy
n/a

n/a

2.92 USD

On Sale (-80%)

Argentina**

Cheapest price

Buy
n/a

n/a

3.49 USD

On Sale (-80%)

South Africa

Buy
n/a

n/a

4.11 USD

On Sale (-80%)

New Zealand

Buy
n/a

n/a

4.25 USD

On Sale (-80%)

Australia

Buy
n/a

n/a

4.32 USD

On Sale (-80%)

Hungary

Buy
n/a

n/a

4.87 USD

On Sale (-80%)

Singapore

Buy
n/a

n/a

4.87 USD

On Sale (-80%)

South Korea

Buy
n/a

n/a

5.02 USD

On Sale (-80%)

Hong Kong

Buy
n/a

n/a

5.06 USD

On Sale (-80%)

Taiwan

Buy
*Prices are calculated and may be incorrect! Check on your own before buying anything. We are not responsible for any additional costs charged!
**This country has special tax information comments (see tooltip)
ALL FOLLOWING ADS ARE PROVIDED BY DISQUS :(
Loading comments…