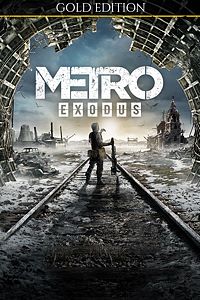 Prices last updated at: 4/24/2019 16:04:48
Release: 3/15/2019 (UK)
The Gold Edition includes the Metro Exodus Expansion Pass. Flee the shattered ruins of the Moscow Metro and embark on an epic, continent-spanning journey across the post-apocalyptic Russian wilderness. Explore vast, non-linear levels, lose yourself in an immersive, sandbox survival experience, and follow a thrilling story-line that spans an entire year in the greatest Metro adventure yet.
Alternate Editions
No alternate editions were found
If you want to buy a game by gift card, please use the browser and my website for this. I will get a small commission to pay the server etc. This helps me a lot and you won't have extra charges etc.! Thank you very much!
EA Access Price*
GOLD Price*
(Discount-) Price*
Country
Link
n/a

n/a

84.99 USD

USA**

Your local price

Buy
n/a

n/a

16.57 USD

Argentina**

Cheapest price

Buy
n/a

n/a

48.61 USD

India**

Buy
n/a

n/a

53.65 USD

Turkey

Buy
n/a

n/a

53.67 USD

South Africa

Buy
n/a

n/a

59.94 USD

Mexico

Buy
n/a

n/a

60.84 USD

Colombia

Buy
n/a

n/a

66.08 USD

Hungary

Buy
n/a

n/a

75.57 USD

Poland

Buy
n/a

n/a

77.09 USD

Hong Kong

Buy
*Prices are calculated and may be incorrect! Check on your own before buying anything. We are not responsible for any additional costs charged!
**This country has special tax information comments (see tooltip)
ALL FOLLOWING ADS ARE PROVIDED BY DISQUS :(
Loading comments…