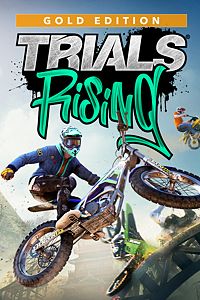 Prices last updated at: 4/24/2019 16:11:04
Release: 2/26/2019 (DE)
Includes the Game & 55+ tracks with the Expansion Pass! Explore over-the-top action and physics-bending motorcycle racing in the latest entry of the Trials® franchise. With new tracks and more ways to compete, Trials® Rising is easy to pick-up and play, challenging to master and offers the best multiplayer racing experience.
Alternate Editions
No alternate editions were found
If you want to buy a game by gift card, please use the browser and my website for this. I will get a small commission to pay the server etc. This helps me a lot and you won't have extra charges etc.! Thank you very much!
EA Access Price*
GOLD Price*
(Discount-) Price*
Country
Link
n/a

n/a

39.99 USD

USA**

Your local price

Buy
n/a

n/a

13.71 USD

Argentina**

Cheapest price

Buy
n/a

n/a

31.18 USD

Colombia

Buy
n/a

n/a

32.53 USD

Brazil

Buy
n/a

n/a

34.22 USD

Russia

Buy
n/a

n/a

34.53 USD

South Korea

Buy
n/a

n/a

35.75 USD

India**

Buy
n/a

n/a

35.95 USD

Singapore

Buy
n/a

n/a

36.85 USD

Hong Kong

Buy
n/a

n/a

36.90 USD

Taiwan

Buy
*Prices are calculated and may be incorrect! Check on your own before buying anything. We are not responsible for any additional costs charged!
**This country has special tax information comments (see tooltip)
ALL FOLLOWING ADS ARE PROVIDED BY DISQUS :(
Loading comments…