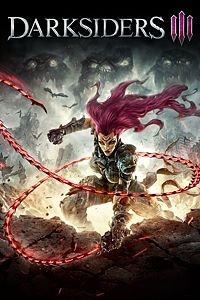 Prices last updated at: 3/21/2019 14:01:32
Release: 11/27/2018 (UK)
Return to an apocalyptic Earth in Darksiders III, a hack-n-slash Action Adventure where players assume the role of FURY in her quest to hunt down and dispose of the Seven Deadly Sins. The most unpredictable and enigmatic of the Four Horsemen, FURY must succeed where many have failed – to bring balance to the forces that now ravage Earth.
Alternate Editions
No alternate editions were found
If you want to buy a game by gift card, please use the browser and my website for this. I will get a small commission to pay the server etc. This helps me a lot and you won't have extra charges etc.! Thank you very much!
EA Access Price*
GOLD Price*
(Discount-) Price*
Country
Link
n/a

n/a

59.99 USD

USA**

Your local price

Buy
n/a

n/a

39.39 USD

Turkey

Cheapest price

Buy
n/a

n/a

41.87 USD

Argentina**

Buy
n/a

n/a

44.94 USD

Canada**

Buy
n/a

n/a

51.29 USD

South Korea

Buy
n/a

n/a

54.67 USD

Hong Kong

Buy
n/a

n/a

54.91 USD

Russia

Buy
n/a

n/a

56.57 USD

Colombia

Buy
n/a

n/a

57.23 USD

Czechia

Buy
n/a

n/a

57.31 USD

Taiwan

Buy
*Prices are calculated and may be incorrect! Check on your own before buying anything. We are not responsible for any additional costs charged!
**This country has special tax information comments (see tooltip)
ALL FOLLOWING ADS ARE PROVIDED BY DISQUS :(
Loading comments…