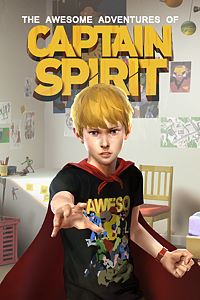 Prices last updated at: 5/20/2019 05:38
Release: 6/26/2018 (US)
The Awesome Adventures of Captain Spirit contains mature language and themes.
Have you ever dreamt of being a superhero? Meet Chris, a creative and imaginative 10 year old boy who escapes reality with fantastical adventures, as his alter ego - the Awesome Captain Spirit!
Return to your childhood and play a touching and heart-warming one-of-a-kind narrative experience from the directors and development team behind the BAFTA award winning game Life is Strange.
Captain Spirit is a free demo set in the Life is Strange Universe that contains links to the brand new story & characters of Life is Strange 2.
Key Features:
- An original narrative experience set in the Life is Strange universe
- Play as Chris and his super-hero alter-ego, Captain Spirit
- Complete a series of missions as Captain Spirit and discover secret content
- Some choices and actions will link to your Life is Strange 2 experience
Alternate Editions
No alternate editions were found
Compatible DLCs
No DLC was requested yet
If you want to buy a game by gift card, please use the browser and my website for this. I will get a small commission to pay the server etc. This helps me a lot and you won't have extra charges etc.! Thank you very much!
EA Access Price*
GOLD Price*
(Discount-) Price*
Country
Link
n/a

n/a

0.00 USD

USA**

Your local price

Buy
n/a

n/a

0.00 USD

UK

Cheapest price

Buy
n/a

n/a

0.00 USD

Canada**

Buy
n/a

n/a

0.00 USD

China**

Buy
n/a

n/a

0.00 USD

Sweden

Buy
n/a

n/a

0.00 USD

Israel

Buy
n/a

n/a

0.00 USD

South Africa

Buy
n/a

n/a

0.00 USD

Denmark

Buy
n/a

n/a

0.00 USD

South Korea

Buy
n/a

n/a

0.00 USD

Norway

Buy
*Prices are calculated and may be incorrect! Check on your own before buying anything. We are not responsible for any additional costs charged!
**This country has special tax information comments (see tooltip)
ALL FOLLOWING ADS ARE PROVIDED BY DISQUS :(
Loading comments…