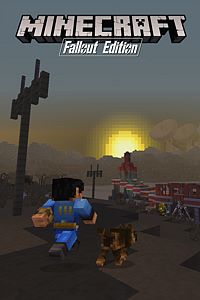 Product ID: bqjfln8sjx2q
This DLC is not (yet) giftable!
Prices last updated at: 12/31/2017 22:45

Minecraft Fallout Mash-up
Description
Welcome to the Wasteland! Celebrate the Fallout® series in Minecraft by cracking open this Vault containing 44 unique skins, custom textures, re-skinned mobs, a special post-apocalyptic map, original Fallout soundtrack compilation and a Pip-Boy inspired UI.
If you want to buy a game by gift card, please use the browser and my website for this. I will get a small commission to pay the server etc. This helps me a lot and you won't have extra charges etc.! Thank you very much!
USA**
Your local price
Argentina**
Turkey
Brazil
Mexico
Hungary
Directly with CC/PP (EU only)
Norway
Directly with CC/PP (EU only)
South Africa
Canada**
Colombia
*Prices are calculated and may be incorrect! Check on your own before buying anything. We are not responsible for any additional costs charged!
**This country has special tax information comments (see tooltip)
Due to Disqus comment validation, some comments may be delayed in display and thus will be shown after several hours. Please be patient. No comment is lost. We can't change or speed up this process. You will probably receive an answer within 24 hours.
Loading comments…