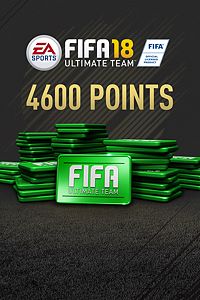 Product ID: c3qtts7ggmh1
Prices last updated at: 5/21/2019 13:02

4600 FIFA 18 Points Pack
Use your 4600 FIFA Points to open packs and build your Ultimate Team™ even faster.

BUILD - Build your squad from thousands of players. Choose your favorites or pick players that fit your style of football.
MANAGE - You can open packs or use the Transfer Market to acquire new players that can enhance team chemistry.
COMPETE - Play the most popular EA SPORTS™ FIFA mode in single player or online!
REQUIRES FIFA 18 ON APPLICABLE PLATFORM (SOLD SEPARATELY), INTERNET CONNECTION AND EA ACCOUNT TO PLAY.
Conditions and restrictions apply.  See https://www.easports.com/fifa/game-and-offer-disclaimers for details.
If you want to buy a game by gift card, please use the browser and my website for this. I will get a small commission to pay the server etc. This helps me a lot and you won't have extra charges etc.! Thank you very much!
GOLD Price*
(Discount-) Price*
Country
Link

n/a

39.99 USD

USA**

Your local price

Buy

n/a

14.74 USD

Argentina**

Cheapest price

Buy

n/a

25.96 USD

Turkey

Buy

n/a

33.53 USD

Australia

Buy

n/a

35.11 USD

Brazil

Buy

n/a

37.17 USD

South Africa

Buy

n/a

38.29 USD

South Korea

Buy

n/a

38.55 USD

Colombia

Buy

n/a

38.73 USD

Chile

Buy

n/a

39.61 USD

Canada**

Buy
*Prices are calculated and may be incorrect! Check on your own before buying anything. We are not responsible for any additional costs charged!
**This country has special tax information comments (see tooltip)
ALL FOLLOWING ADS ARE PROVIDED BY DISQUS :(
Loading comments…